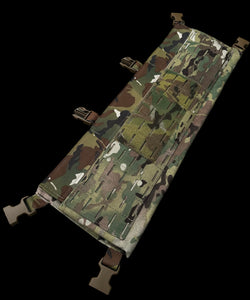 Same as the original SCOUT but with the more modern laser-cut MOLLE Squadron (laminate) and Velcro on front. This version also features a laser-cut MOLLE front panel. 
The SCOUT (Sustained Combat On Ur Torso) Rig, is specifically designed to accept @axladvanced zipper inserts. Full zips on the front and half zips on the sides, for up to 4 half zips and 2 full zips. The front pouch of the rig is a massive "trough" design which allows the user to organize and configure their inserts exactly how you want. Capable of carrying 7 mags in a row, this makes the SCOUT rig extremely comfortable when lying in the prone. No "tactical beer belly!". The admin pouches are also capable of carrying mags, which brings the total capacity to 12 magazines in a (double-stacked configuration) if needed.

The rig also features two rear mesh pouches for quick access to maps, documents, or snacks. The insides of mesh pockets are loop-lined on one side for compatibility  with elastic magazine inserts 

This rig is 500D and bar tacked at all major stress points. Each pouch has two grommets for draining and shock cord should you want to attach TQs or other things. The back also has a removable Velcro panel for attaching Danglers and drop sacks. The side MOLLE panels allow for users to add additional pouches if desired.
*Shoulder straps, back strap, MOLLE Velcro cover Flap, DUFF, zipper and magazine inserts sold separately.